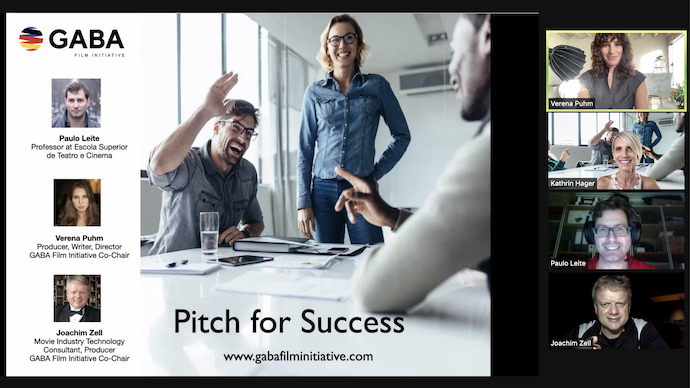 Pitch for Success Presentation by the GABA Film Initiative
When pitching and marketing their movies, independent filmmakers face an uphill battle in the film industry. Effectively marketing a project as well as securing necessary funding are pivotal parts of any successful film. To open the doors to both, financing and distribution, a successful pitch is the key element to moving one's project in the right direction.
GABA Southern California's Film Initiative recently held a Pitch for Success, a virtual event that proved to be very beneficial for attendees involved in the film industry. The event featured Paulo Leite, genre producer and pitch authority, whose filmmaking expertise was on full display during the nearly three-hour event. Leite has successfully funded numerous projects, amongst his accomplishments a rather untypical one: he fully funded one of his feature films within 24 hours. Presenting with Leite and co-hosting the event, was creative producer and tv writer Verena Puhm, who shared her experience and insightful tips on pitching to studios and talent agencies such as Sony Pictures Studio, TriStar Pictures, Macro, and CAA.
Leite, also a film professor, spoke largely about the importance of formulating an effective pitch. He touched on what a quality pitch should entail, such as thoroughly depicting the main character's motivation and opportunity. Leite offered worthwhile tips that included writing out the pitch, as well as carefully timing it. Puhm who has been co-chairing the Film Initiative for the past 5 years and is heading a film and tv development company since last year, also let attendees in on what investors are looking for in a successful pitch. She covered topics such as the importance of pitching yourself and your relationship to your project, essential tools such as schedules, budgets, and visual lookbooks, and the question of how much to disclose to a studio head when you don't get a signed NDA.
The event ended with a Q&A session which allowed for useful discourse between the speakers and members of the audience. – written by Shaun Canady
If you are interested in joining the GABA  Film Initiative, please send us your application!