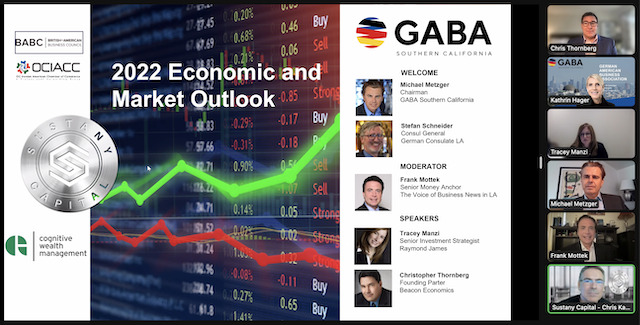 2022 Economic and Market Outlook
The global economic forecast for 2022 may seem like a daunting topic to many. With the popularity of cryptocurrency on the rise, e-commerce becoming a household name, inflation increasing with seemingly no intention of reversing, and many other key factors, the global economy is a loaded subject with countless layers to uncover.
On Thursday, January 13, GABA Southern California recently held its "Economic and Market Outlook" event to dig deeper into today's most pressing topics. Headlined by influential economist Chris Thornberg and investment strategist Tracy Manzi, along with the help of an engaged audience and the award-winning moderator Frank Mottek, the event did not disappoint.
Both speakers touched on the effect the pandemic has had on the global economy, whether or not rising inflation should be a cause for concern and how the change of leadership in Germany affects the future of the US. But with that said, the discussion about the crypto market seemed to captivate the audience the most.
While Manzi remained largely neutral regarding the emergence of the crypto market, Thornberg did not hide his skepticism of the digital currency's potential. This led to a spirited, yet fair chat discussion between several attendees. The 75-minute virtual event never lacked intrigue, due mostly to the passion of the speakers and the attendees. – written by Shaun Canady
To avoid missing out and to stay informed about future GABA events, please subscribe to our newsletter.