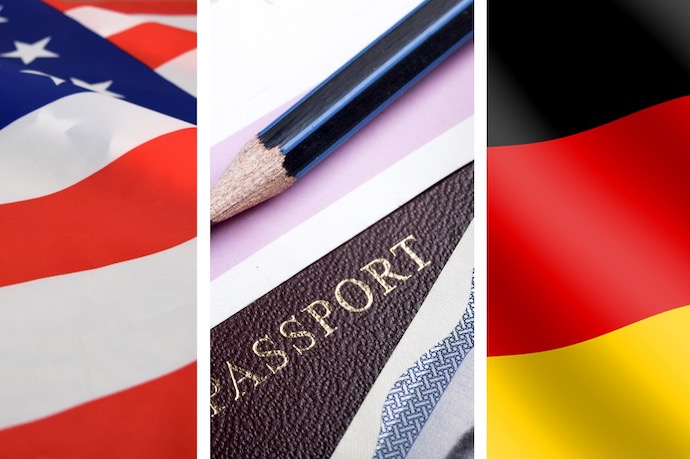 Living a "Double Life" in Germany and the U.S. – Immigration
This month's topic will cover the visa and immigration process both for the USA and for Germany (more details below). The event will be split into two parts and attorneys from both countries present their perspectives, as well as offer Q&A for all participants joining live.
During the inbound session in Part A of this event, Mario Eric Moss (U.S. Attorney for U.S. immigration law) will provide the following insights on the "Germany to USA" visa and immigration process for Germans and others:
Which U.S. visa/status is the right choice: ESTA/visa waiver, nonimmigrant visa, immigrant visa/"Green Card", or citizenship?
Which visas allow living and working in the U.S.?
What types of nonimmigrant visas are available?
What are the options for immigrant visas/"Green Cards"?
Who can apply for U.S. citizenship?
Is dual/multiple citizenship possible?
How to get a "Beibehaltungsgenehmigung" (BBG) to keep German citizenship when acquiring U.S. citizenship?
What are the immigration policy changes under the new U.S. administration?
During the outbound session in Part B, Sven Hasse (Rechtsanwalt/German Attorney for German immigration law) will explain the following "USA to Germany" visa and immigration options for U.S. citizens and others:
When do I need a residence title to live in Germany?
When do I need a German work permit?
Residence titles for education or work purposes (freelance/self-employed)
Family unification (spouse or child is German/has residence title, can parents or siblings follow?)
Where do I have to submit my application? (U.S. citizens, family members with other citizenships)
Can I work in the EU with a German residence title?
Loss of residence title
How can I become German? (acquisition by birth though German parents or birth in Germany, and naturalization)
Can I keep my U.S. citizenship when becoming a German citizen?
Freedom of movement for EU citizens within the EU
There will be a Q&A session for both sessions after the individual presentations.
Speakers
U.S. Immigration Attorney
Director, Chair of Orange County at GABA SoCal
German Immigration Attorney
Anwaltssozietät Jurati, Berlin
Moderator
Managing Partner at Transatlantic Investment Partners
Vice-Chair and Regional Chair San Diego at GABA SoCal
To stay up-to-date with our GABA events, sign up for our newsletters, create your account and download the MemberPlus app (App Store / Google Play).