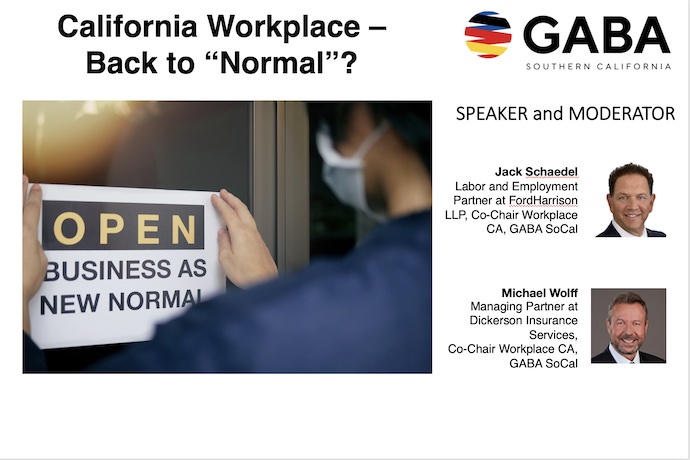 California Workplace – Back to "Normal"?
As the world steadily progresses towards normalcy following the coronavirus pandemic, one of the most talked-about topics centers around the workplace: will it return to normal?
GABA Southern California recently hosted "California Workplace – Back to Normal," and it did not disappoint. The virtual event boasted tons of legal and practical expertise as lawyer Jack Schaedel and Dickerson Insurance Services managing partner Michael Wolff provided useful information throughout the 60-minute session. The audience also had the opportunity to have questions answered by the aforementioned speakers, as well as share personal experiences.
Schaedel and Wolff both agreed that the answer to the "will the workplace return to normalcy?" question is not as cut and dried as it may seem. While employees are officially allowed to return to work, the speakers made clear that working from home and using ZOOM calls are aspects of a job that are here to stay for the foreseeable future. Schaedel also addressed employee vaccinations, stating that many employers have the authority to make vaccinations mandatory.
Wolff touched on the adjustments he has had to make at the workplace since the reopening. He spoke about the importance of employee morale following the pandemic, and also pointed to the significance of workplace parties, potlucks, happy hours, etc. to help normalize things. – written by Shaun Canady
To avoid missing out on any future events, join our GABA SoCal mailing list.