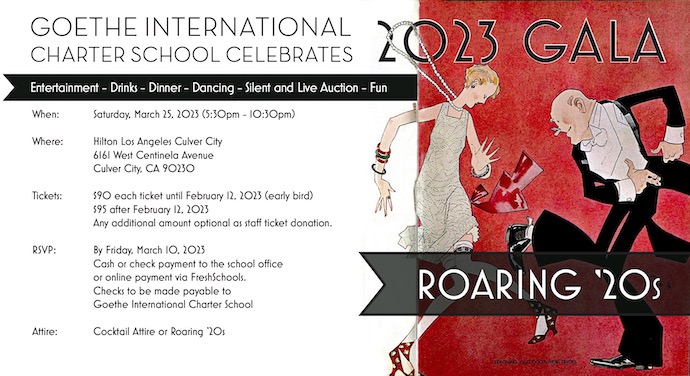 Goethe International Charter School Celebrates – 2023 GALA
Entertainment – Drinks – Dinner – Dancing – Silent and Live Auction – Fun
Saturday, March 25, 2023 (5:30 pm – 10:30 pm)
Hilton Los Angeles Culver City
6161 West Centinela Avenue
Culver City, CA 90230
$95 per ticket
Cocktail Attire or Roaring 20s
Get your tickets to the GICS party of the year here!
Note: Donate Now takes you to the ticket registration and payment page!
Goethe International Charter School (GICS) invites you to become a contributor to our annual Gala & Auction, which will take place March 25, 2023, at the Hilton Los Angeles in Culver City. As a contributor to this event, your company and message will be marketed to over 400 potential consumers. GICS families and supporters come from a wide range of areas around Los Angeles including Culver City, Westchester, Playa Vista, Playa del Rey, Venice, and Marina del Rey as well as the South Bay.
Why should you support Goethe International Charter School? What sets us apart?
GICS is the first language acquisition school in Los Angeles with German as a target language.
Located in West Los Angeles, we currently educate 400 students of diverse socio-economic backgrounds in the Los Angeles Unified School District (LAUSD). Over 35 nationalities and languages are represented in our student body.
GICS is a high-achieving, ambitious TK-8 school, delivering the International Baccalaureate (IB) Primary Years and Middle Years Programmes. GICS adheres to a rigorous standard of education that is academically advanced when compared to the typical school curricula. Learning is approached from an international perspective.
GICS is a 2023 California Distinguished School, a California Gold Ribbon and Green Ribbon School, a Western Association of Schools and Colleges (WASC) accredited school, an IB Primary Years Programme authorized world school and an IB Middle Years Programme candidate school
How can you help?
As a tuition-free, independent TK-8 charter school, we are allotted less funding than regular public schools. We are reaching out to local businesses to partner with us to help achieve our goals.
Good news for tax season: We are a 501(c)(3) organization (Tax DI 26-0279556) and your generous contribution are tax-deductible to the full extent of the law.
Please submit the sponsorship form via email to auction.sponsor@goethecharterschool.org. Money contributions should be sent to Goethe International Charter School, Attention: Birgit Schilcher, 12500 Braddock Drive, Los Angeles CA 90066. Sponsorships must be received by March 10, 2023.
If you are interested in donating an item to the Silent or Live Auction please submit the donation form via email to auction.donation@goethecharterschool.org.
Thank you in advance for your consideration. If you have any questions at all, please do let us know. We look forward to working with you in creating great opportunities for our future generations.