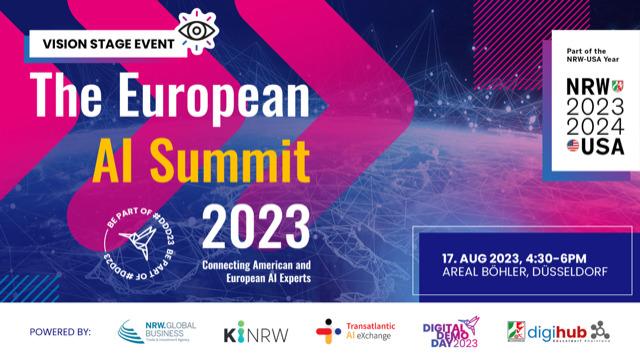 NRW Global Business – European AI Summit 2023: Connecting American & European AI Experts
Date: August 17th 2023, 7:30-9:00 am PST
Hybrid event: Areal Böhler, Düsseldorf & Online
The European AI Summit 2023 is set to bring together leading experts and professionals in the field of Artificial Intelligence (AI) from both Europe and the United States. Co-Organized by NRW.Global Business, this groundbreaking hybrid event aims to foster knowledge exchange and collaboration, contributing to the advancement of AI technology and applications on an international scale.
The European AI Summit 2023 will take place at DDD23, where attendees can look forward to an inspiring lineup of 15 renowned speakers hailing from diverse domains of AI expertise. This year's summit promises a unique and concise format, with each speaker allocated a 3-5 minute timeframe to deliver their insights and experiences. The curated selection of speakers guarantees attendees exposure to a broad range of cutting-edge ideas and transformative solutions in the AI industry.
As part of the ongoing NRW-USA year, the summit intends to forge stronger ties and enhance cooperation between AI professionals from both sides of the Atlantic. With a focus on driving global progress in AI technology, the event provides an exceptional platform for networking, collaboration, and forging new partnerships.
Registration for the European AI Summit 2023 is now open, and AI enthusiasts, researchers, entrepreneurs, and professionals are encouraged to secure their spots early. Don't miss out on this incredible opportunity to gain insights from the industry's best and become a part of the AI transformation journey.
NRW Global Business is a GABA SoCal Corporate Member and a GABA NorCal Small Business Member. Thank you for sharing your member news!