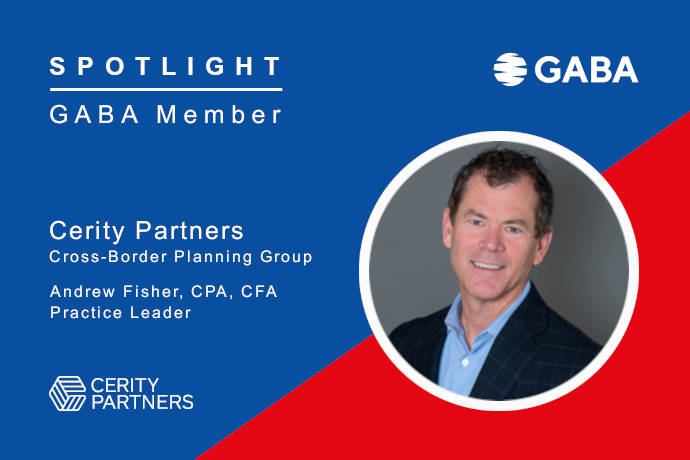 Cerity Partners – Cross-Border Planning Group
Managing Wealth Across Borders – Coming to America
Globalization is increasing and the world is becoming ever more connected. Today's companies are importing specialized talent from every region of the world. Large U.S. companies are expanding globally, while technology companies are importing specialized talent from around the world. Also, the U.S. technology sector is a magnet for international entrepreneurs, attracted by the opportunity to launch their new businesses in our thriving tech ecosystem.
For talented professionals and entrepreneurs like many GABA members, this is an exciting time to expand your opportunities beyond your country of birth and to work with peers across the world, either remotely or onsite.
Financial Complications Await
But this mobility also creates complications to your financial life. Cross-border professionals and their families are subject to intricate tax laws and regulations when they relocate for work outside of the U.S., or move from another country to the U.S.
The number of foreign-born professionals working in the U.S. has exploded as many large U.S. companies look abroad to find specialized talent. These people tend to be accomplished high-income professionals, and they also save at a considerably higher rate than their American peers. In addition, it is much more common that they own real estate and financial assets outside of the U.S. As a result, their planning and investing needs are more complex, and they often struggle to understand our unique tax code and the various retirement and investment options offered to them.
As a financial planning practice that specializes in cross-border families, many of our clients are foreign nationals in the United States who are looking for clarity on their taxes and other financial situations.
Critical Financial Planning Challenges
International families in the U.S. require specialized financial planning and wealth advice. Example of unique cross-border planning include:
Coordination of 401(k) and IRAs with other international qualified accounts
Personal risk tolerance, particularly for families new to investing and unfamiliar with holding equity exposure
Overall balance sheet review and asset allocation, focused on coordination of worldwide assets
Stock option and equity compensation analysis
Tax strategies and optimization of investment portfolios to maximize tax efficiency
Retirement readiness and financial projections
Review of real estate and other alternative assets
Pre-move planning into/out of the United States, including immigration planning
Advanced retirement planning related to: estate planning, asset protection and insurance, charitable giving, and more
Special Offer
Our cross-border team has a special relationship with GABA going back over 10yrs, and we enjoy giving back to this community. We are offering a free one-hour consultation to any GABA member, during which we will learn about your individual situation and questions, and offer personalized advice and suggestions for where to learn more.
About Andrew Fisher, CPA, CFA
Andrew Fisher is a Partner at Cerity Partners located in San Francisco. He is an experienced wealth manager with a focus on advising successful families with complex financial situations. Andrew serves as the practice leader for Cross-Border Planning, having long specialized in advising successful cross-border families – both Americans living abroad and foreign professionals living in the U.S. He is the author of The Cross-Border Family Wealth Guide, a personal financial planning book for internationally oriented families.
About Cerity Partners
Cerity Partners is a leading, national independent financial advisory firm serving high-net-worth individuals and their families, businesses and their employees, and nonprofit organizations from its offices across the country. The firm's in-house experts of tax advisors, financial planners, investment professionals and retirement plan consultants are passionate about and committed to providing objective financial advice and oversight. Additional information can be found at www.ceritypartners.com.
Andrew Fisher, CFA, CPA
Partner and Practice Leader – Cross-Border Planning
Cerity Partners