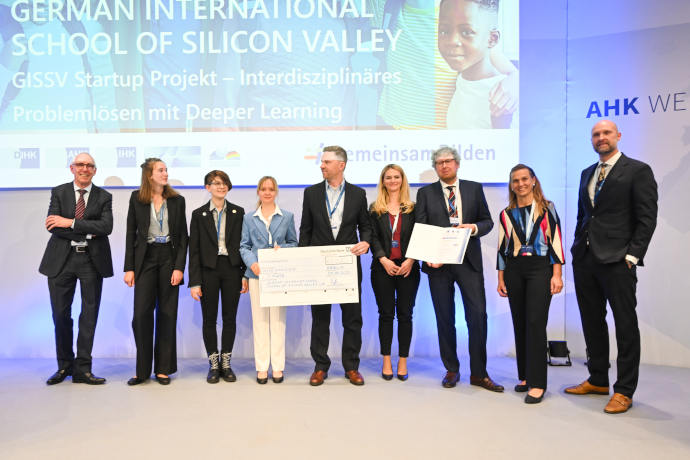 GISSV Wins 1st Prize at IHK Competition
GISSV's "Interdisciplinary Problem Solving with Deeper Learning" Wins 1st Prize at Schüler bauen weltweit Brücken Competition
The German International School of Silicon Valley (GISSV) is excited to announce that the school has won first prize in the Schüler bauen weltweit Brücken (Students Building Bridges Worldwide) competition for Schools Abroad, organized by the German Chamber of Commerce (IHK). The winning project, an interdisciplinary endeavor developed by GISSV teachers Martin Lentzen, Jenny Jungeblut, and several other GISSV teachers and parents, empowers students to cultivate their own startup ideas using AI. This achievement has garnered substantial attention and recognition.
AI is the hot topic right now, and many schools struggle to adapt to the challenges of ChatGPT. The staff at GISSV believes that it is crucial to foster critical thinking about the role of AI in society and not to ignore it. The jury agreed and awarded €60,000 to GISSV. The GISSV community is proud to have been recognized for this innovative and inspiring approach to education. During the recent AHK World Conference at the Haus der Wirtschaft in Berlin, a delegation from GISSV had the honor of receiving the award from State Minister in the German Foreign Office, Ms. Katja Keul. The ceremony was attended by 400 decision makers, including the Head of the Cen­tral Agen­cy for Ger­man Schools Abroad (ZfA), Ms. Heike Toledo, and many members of the Bundestag and the diplomatic corps.
GISSV is dedicated to providing students with the future skills and opportunities they need to succeed in a rapidly evolving world, and it is encouraging to be recognized for this with such a prestigious prize by the German authorities.
To learn more about the project, visit www.gissv.org/deeper-learning-at-gissv