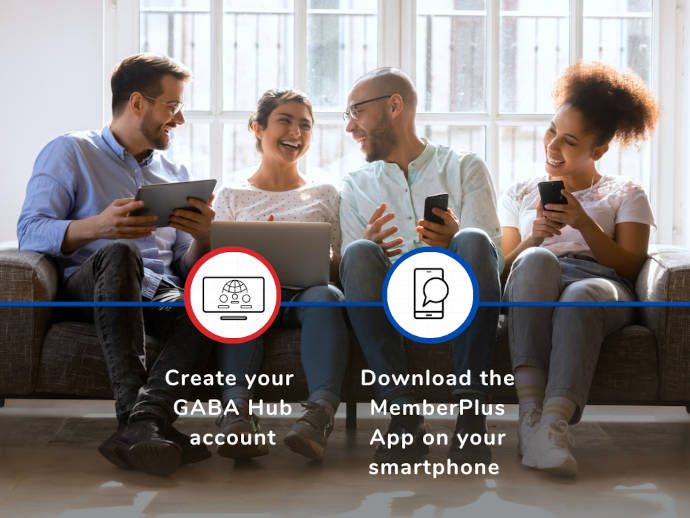 We Welcome Everyone to Our New Connection and Resource Center:
The GABA Hub!
The GABA Hub is an online portal for our members and non-members that is accessible through a browser and the MemberPlus App.
Both GABA members and non-members.
To set up your personal account visit our GABA Hub and select "Create an account."
Your account details are the name and email address you have provided as your contact to GABA.

The MemberPlus App for GABA
The MemberPlus App for GABA lets members and non-members access select information and features from the GABA Hub through a smartphone.
GABA members and non-members.
You can find the MemberPlus app in the App Store and on Google Play. Install the app on your smartphone, then sign in using your GABA Hub login created through a web browser. You can then use the MemberPlus App on your smartphone.
Members
Non-Members
GABA Hub
Member
Plus App
GABA Hub
Member
Plus App
Browse public GABA company members directory

✔

✔

✔

✔

Register for events

✔

✔

✔

✔

Check in at events

✔

✔

Receive push notifications

✔

✔

Create your directory listing(s) and profile(s) incl. profile pictures, additional images and videos

✔

Update your directory listing(s) and profile(s) basic and additional information

✔

✔

Connect with other members

✔

✔

Access free events recordings

✔

✔

Add additional information about yourself

✔

Offer member-to-member specials *

✔

Download receipts and invoices

✔

✔

Access membership details

✔

✔

Review account history

✔

✔

View outstanding and paid invoices

✔

✔

Pay membership invoices

✔

✔
* for company members only