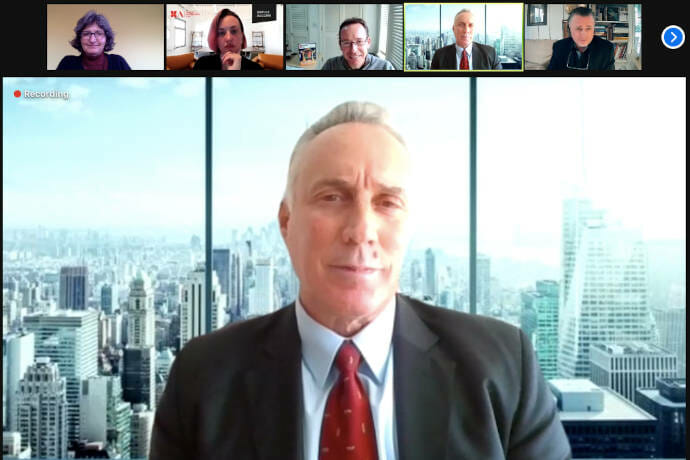 Global Business Outlook 2021 – Enormous Challenges Before a Global Recovery
Despite the virtual format, GABA's annual Global Business Outlook drew a large audience. At the end of this unprecedented year, four experts presented their views on the economical development, immigration, the particular role of California, Germany, Europe and China, and structural shifts accelerated by Covid – just to name a few topics that were discussed yesterday.
Hans-Ulrich Suedbeck, Consul General of the Federal Republic of Germany in San Francisco, who has generously hosted this annual event at the Consulate in the past, welcomed speakers and audience. He encouraged everyone on this event, and the world at large, to overcome this enormous challenge by working hard and making wise decisions on how to build back better.
Thanks to Matthias Hohensee, Silicon Valley Bureau Chief of the Wirtschaftswoche, for moderating the panel discussion. He ensured that each speaker contributed great insights on a multitude of forward-looking topics, for example:
Sophie Alcorn, Founding Partner of Alcorn Immigration Law, is generally positive about the prospect of the undoing of many recent immigration restrictions. She also revealed a current way for German companies to accelerate US visa for their employees and dove into several questions around Greencards and H1B visa.
Professor Liang Wang, from the School of Management of the University of San Francisco and Director of the China Business Studies Initiative, indicated many opportunities and potential movement in the Chinese-US/European economic relationships.
The international audience took note when Marc Chandler, Political Economist and Chief Market Strategist at Bannockburn Global Forex forecast the US Dollar to further weaken against the Euro – with many market fluctuations along the way. He also suggested that due to the rise of virtual connection tools and meetings, business hierarchy will flatten and be replaced by networks – which in turn will support diverse team building.
Olaf Groth, CEO & Founder of Cambrian Futures and Professor at HULT International Business School, particularly pointed out the opportunities among the many uncertainties we experience at the moment. In fact, the pandemic revealed and accelerated several structural shifts, for which solutions might be almost easier to re-design and re-imagine today than one year ago.