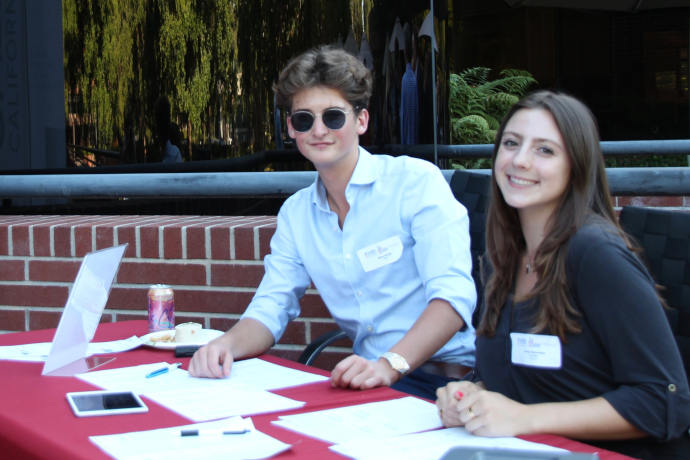 GABA: Join the Team! Have an Impact and Make New Connections
Talented and inspired volunteers drive GABA's mission to build bridges between the German and Californian business community. Our team of volunteers powers our marketing and social media engines and enables our in-person events to run seamlessly. With increasing experience, volunteers take responsibility to lead teams and drive initiatives, deliverables and timelines. Team members help recruit and onboard new volunteers and foster group learning and self-organization.
Enjoy the benefits! In addition to the conviviality, there are other perks to volunteering with GABA:
Community

Become part of the GABA team and a large German-American community
Make new friends and business contacts
Improve your German or English by volunteering in a bilingual environment
Have fun in GABA's friendly atmosphere!

Access to the GABA Network

Complimentary individual GABA membership 
Free attendance to virtual events and all in-person events where one volunteers
Facilitated introductions to members of the GABA community

Opportunities for professional development 

Learn new skills and gain valuable job experience 
Author website posts that are relevant to core GABA issue areas
Professional references can be provided where appropriate

Recognition

Active volunteers can be featured in the GABA website News Section
Volunteers who take on growing responsibilities are listed as Team Members on the GABA website

Annual Exceptional Volunteer Prize: dinner with the Consul General at the German Consulate
Your opportunity for impact! GABA's need for skilled volunteers continues to evolve and currently includes many different regular and one-off project opportunities:
Amplifying events

Before: social media posts and other marketing
During: live social media posts with images and clips
After: brief written summary, edited video clips

General marketing and social media support
Editing by native English speaker as needed for website and social media content
Database cleanup and management
Scoping out options for event and member management system with CRM function
Support for in-person events (post pandemic)
How would you like to contribute to our community and help build transatlantic bridges?
Please help spread the word and join us today!