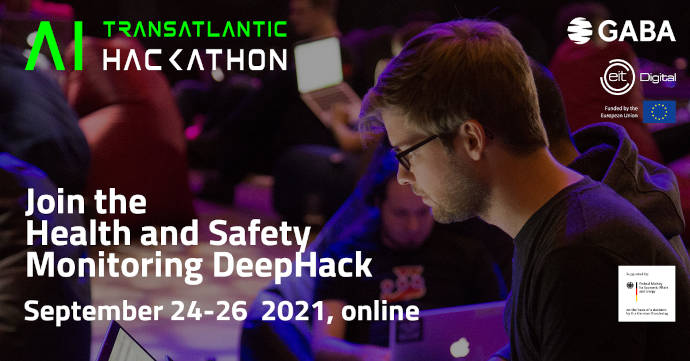 First Transatlantic AI Hackathon Challenge and Prizes Announced
Today, we reveal the challenge and prizes of the first online Transatlantic AI Hackathon – Health and Safety Monitoring DeepHack. The hackathon will take place on September 24-26, 2021, and the deadline for the teams to submit their project proposal is September 8, noon CET (3am PT). Thanks to our generous sponsors, Intel and Luxonis, participating teams will receive a LUX-ESP32 spatial AI camera and can use Intel's OpenVINOTM toolkit for free. You can also win a total of $10,000 in cash prizes. Sign-up for our challenge presentation event – everyone is invited!
Challenge Background
The pandemic has accelerated digitalization in many areas and has tremendously raised the general awareness around health and safety. The first Transatlantic AI Hackathon will pick up on these important developments and dive more deeply into the possibilities of how edge AI can help improve health and safety in new and creative ways.
In this context, Edge AI has several advantages: data processing speed, data protection and privacy, and enhanced data economy. An intelligent local hardware device does not need to be connected to the Internet to process and analyze data in real time, because all data, such as video, sensor information, time and space measurements, stay local. Even the actual decision or execution – for example a warning signal for the person in danger – may not need to be transmitted. In other cases, only a few meta-data or a signal notifying a nurse or an ambulance is sent through the Internet. This drastically reduces energy-intensive Internet traffic and makes data privacy, security and safety much more manageable.
Edge AI devices can assist and maintain health and safety in many situations where the Internet connection is spotty or data transfer is not desired. For example, to assist the visually impaired with a solution that helps navigate the world more efficiently and safely, or monitor for vehicle and road hazards for pedestrians and cyclists.
Challenge Domains
Following a list of example areas in which you are invited to dive more deeply, or combine various aspects of AI-powered sensor and computer vision solutions at the edge for health and safety monitoring:
Solution that helps in care facilities or at home to monitor for falls and assess the right course of action
Vision-based patient monitoring system for ICU, care facilities or home that monitors sleep, movements, facial expression or other vital signs to deduct the need for intervention
Improving pedestrian and cyclist safety with a solution that monitors for vehicle or road hazards
Fitness application that tracks exercises or helps correct posture
Solution that monitors for social distancing and proper mask wearing in crowds
System that monitors and improves worker safety, for example, related to Covid-19 distancing, mask wearing, and temperature measures, or in the context of safe operation of machinery
Prizes, Give-Aways and Benefits
Your ideas and creativity are needed more than ever to bring new solutions to reality. Join the challenge and benefit on many levels: create an AI and data-driven solution that helps individuals and the society, learn from experienced experts at top companies, receive hardware and software to use (and keep), win cash prizes (a total of $10,000), and collaborate with peers and participating organizations beyond the Hackathon.
Thanks to our generous sponsors, Intel and Luxonis, you have the opportunity to use the OpenVINOTM toolkit and the LUX-ESP32 spatial AI camera for your solution, but you are not required to do so. We will ship the LUX-ESP32 spatial AI camera to all members of the selected teams for you to keep, and everyone can participate in the OpenVINOTM toolkit training sessions which are scheduled before the project submission deadline and will be accessible online as well.
Stay informed for more details and valuable pre-events of the Transatlantic AI Hackathon (for ALL and FREE) and to receive reminders to register. Please also read about the context and purpose of the hackathon series here or check out our website.