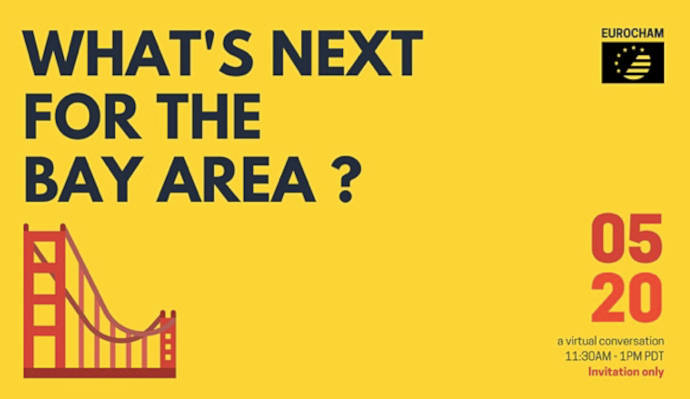 Eurocham: Meeting of the Minds – What's Next for the Bay Area?
Yesterday, the Association of American European Chambers of Commerce and Business Associations (AAECCBA – "Eurocham") held its first Meeting of the Minds with a dozen of executives in the Bay Area. The roundtable discussion looked at facts and myths of the often-purported exodus from the San Francisco Bay Area. Here are the main insights:
Dreaming big, scaling fast, and breath-taking agility still makes the Bay Area unique. The Silicon Valley and San Francisco tech ecosystem continues to drive the development in biotech, life sciences, fintech, deeptech and microchips. A record number of deals, investments and opportunities remains in the Bay Area. The regioncontinues to produce very strong companies (unicorns!), serendipitous encounters, innovative research, and talent. Bay Area companies have also significantly contributed to Covid-related developments, including vaccines and videoconference technology (Zoom).
On the other hand, unsustainable housing prices, taxes, and living expenses have led to movements of the workforce, VC offices, and tech companies to other hubs, which have replicated and reinvented Silicon Valley in some form. The dispersion of risk capital, talent, and companies is necessary and in fact, overdue. This is good news. The Bay Area does not compete with other regions, but it in fact lifts up these other areas.
An increasing amount of talent is available elsewhere in the country, but that does not mean that there is a decrease of talent in Silicon Valley. Also, the vast majority of people leaving the Bay Area does not actually leave California but moves within the state. It is also true that some small companies follow the lead of large corporations such as Google and Salesforce. The number of big players that have left the region, however, is largely over-estimated. At the same time, pioneers and trailblazers will chart new courses for other tech-enabled entrepreneurial hubs to take root.
With and after the pandemic, the workplace is being re-invented to become the center of collaboration and meetings versus pure working offices. The network made possible by Silicon Valley's and San Francisco's hyperconcentration of start-up, VC, and entrepreneurial culture is still its biggest asset. The future success of companies and entrepreneurs depends on their ability to balance their physically built networks with digital collaboration and international teams.
Eurocham and its member organizations, including GABA, will build on the new and continued opportunities to showcase the strengths of the Bay Area and connect our home countries with leading edge knowledge and organizations.