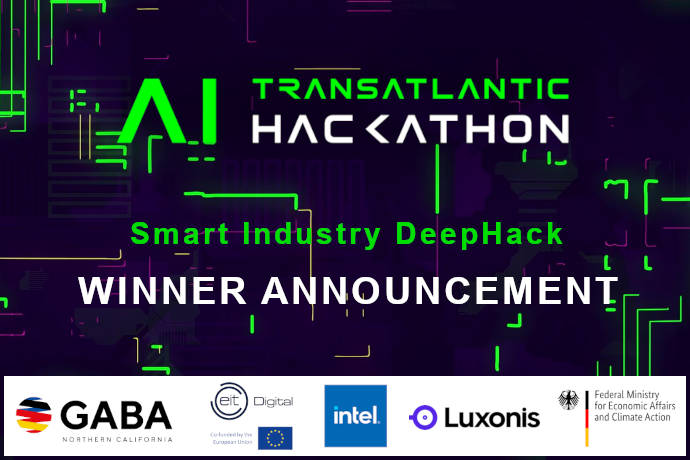 Congrats to the 2023 Transatlantic AI Hackathon Winners!
Our Transatlantic AI Hackathon was a great success!
Topic was "Smart Industry. Transforming Manufacturing with Edge Computing and Cloud Data Integration." and our teams came up with fantastic solutions that hopefully can be implemented in the real world!
1st Place: Team #7 – StitchSense
Visual inspection of the textile production line: object detection and classification pipeline running on a smart camera.
Team: Ruslan Vorobev, Ivan Vasilev, Ivan Kremnev, Shivam Basia, Sreekanth Gopi
2nd Place: Team #1 – Team Berlin
Use of computer vision to reconstruct medical products and then application of anomaly detection to check for defects.
Team: Niels Autrata, Ava Pham, Dinh Dung Van, Nir Soffer, Jacob Ennis
3rd Place: Team #6 – VisionLink
Recognition of print products to match them to their print jobs in an ERP system, to gain full control about how the process is running. The manual process step in production lines is therefore replaced via camera monitoring and computer vision based analysis of the production step.
Team: Anton Laukemper, Jolan Nattebrede, Henri Graf, Maria Cruz
Thanks to our Platinum sponsors Intel and Luxonis, most of the teams worked with their technologies, and had great support from mentors of these companies. UltraHack did a tremendous job all weekend and many weeks leading up to this event.
This initiative was organized by GABA and EIT Digital and supported by the Transatlantic Program of the Federal Republic of Germany, funded by the European Recovery Program (ERP) of the Federal Ministry for Economic Affairs and Climate Action (BMWK).
For more information please visit our Transatlantic AI Hackathon website!