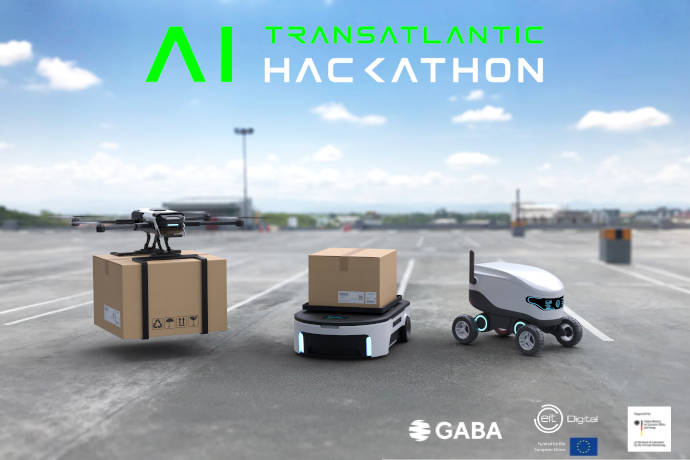 Congrats to the 2022 Transatlantic AI Hackathon Winners!
Our Transatlantic AI Hackathon was a great success!
Topic was "Sustainable Supply Chain" and our teams came up with fantastic solutions that hopefully can be implemented in the real world!
1st Place – Ant Trail
An AI-powered platform to help connected truck convoys minimize fuel consumption
Team: Bharat Narayanan, Andres Jimenez, Bo Zhang, Matteo Albi, Aaron Jencks
2nd Place – GreedBY
A broker platform that distributes freight orders to delivery SME's
Team: Johann Schmidt, Sebastian Lang, Viktor Artiushenko, Marcel Müller, Lorena Reyes, Steffen Klawitter
3rd Place – Packet Locker
A system to automatically send products to the nearest locker when the customer is not at home
Team: Armando Dauer, Matheus Correia, Tiago Tamagusko, Neha Deshpande, Paul Haggard, Jovial Silatsa Tchatchum
Thanks to our Platinum sponsors Intel and Luxonis, most of the teams worked with their technologies, and had great support from mentors of these companies. UltraHack did a tremendous job all weekend and many weeks leading up to this event.
We hope to see everyone again at our next Hackathon in 2023. A new challenge awaits you. Stay tuned.
This initiative is organized by GABA and EIT Digital and supported by the Transatlantic Program of the Federal Republic of Germany, funded by the European Recovery Program (ERP) of the Federal Ministry of Economics and Energy (BMWi).