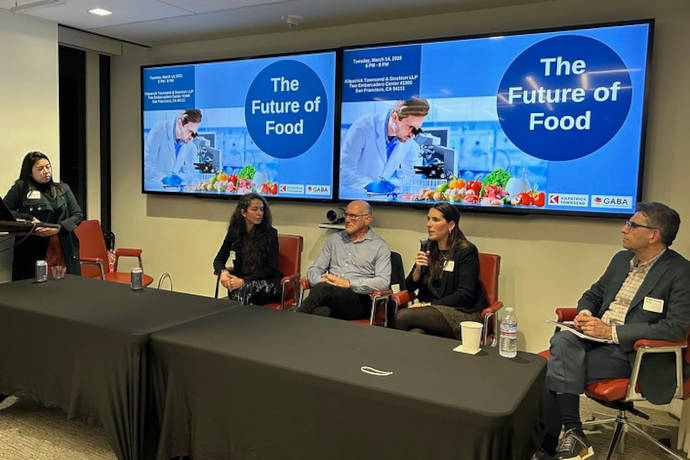 The Future of Food: Are Alternative Proteins Holding up to Their Promise?
GABA NorCal and sponsor Kilpatrick Townsend & Stockton LLP co-hosted the event titled "The Future of Food: Are Alternative Proteins Holding Up to Their Promise?" in San Francisco last week. Huge thanks go out to GABA IG Chairs Edda Mihaescu and Katrin Jakob for diligently preparing this panel discussion and for their support during the event itself, and to Siegmar Pohl, Secretary of the GABA Board of Directors and Partner at Kilpatrick Townsend & Stockton for hosting the event in their beautiful downtown offices. 
The event aimed to discuss the latest developments in plant-based and cell-cultured food and where the alternative protein food industry stands today. The speakers at the event included David Meyer, the co-founder, and CEO of Food Systems Innovations, Patricia Bubner, the CEO and founder of Orbillion Bio, Katja Roth, the former VP of Marketing of Current Foods, and and Babak Kusha, the Patent Partner, and Co-Team Leader of the Retail & Consumer Goods Industry Team at Kilpatrick Townsend & Stockton LLP.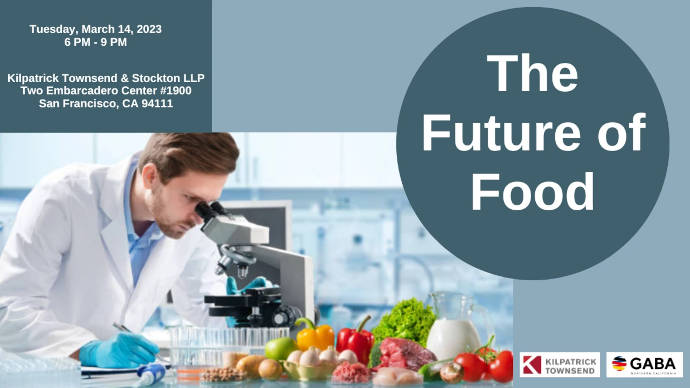 David Meyer set the stage and spoke about the problems with the global animal-based food system and the issues that need to be addressed regarding alternative proteins. He explained that the forecasted increase in global meat demand – estimated to be between 70 and 100 percent by 2050 – is alarming because the current methods of production simply cannot keep up. He further discussed how the land now used to raise animals and produce feed could feed 24 billion people if it was used for the production of a vegan diet only, and how switching to chicken or fish does not solve the problem of environmental sustainability. He emphasized that animals are "meat machines" that cannot be easily improved upon, and iterating on animal design is not a humane solution to meet our needs.
Patricia Bubner's presentation centered around her cell-cultured meat company based in San Francisco, Orbillion Bio. Her company is becoming one of the biggest beef producers in the world, starting with premium cell-cultured beef. She explained that the cell-cultured meat industry still faces important challenges in terms of scale-up and sustainability, including high input costs and the need to innovate in formulation and materials. However, Orbillion's cell-cultured meat production requires 75% less water, 95% less land and produces 92% less emissions than conventional beef production. As the first company to develop and serve cell-cultured premium beef and lamb, they are already filing for regulatory approval in the US, Asia, and Europe.
Katja Roth spoke about Current Foods, which produces plant-based fish like tuna and salmon. She discussed the ingredients, which include seaweed, and how her company is innovating to provide delicious and healthy meat alternatives. Attendees had the opportunity to taste some of the Current Foods products.
Babak Kusha, Patent Partner at Kilpatrick Townsend & Stockton LLP, provided insights into the media trends and patent landscape surrounding the alternative protein food industry.
The event was moderated by Erica Riel-Carden, Chairwoman of the SCU Center for Food Innovation and Entrepreneurship and Principal at Global Capital Markets.
The attendees had an opportunity to learn about the progress and challenges of alternative protein food companies and participate in a discussion on how these foods can be produced more economically, sustainably, and with the same or better taste and nutritional values. It was pointed out by all panelists that taste, texture and price are the driving factors for the adoption of foods based on alternative proteins.
Don't miss out on the next event and become a GABA NorCal member today!
Author: Jana Buellesbach, GABA Volunteer