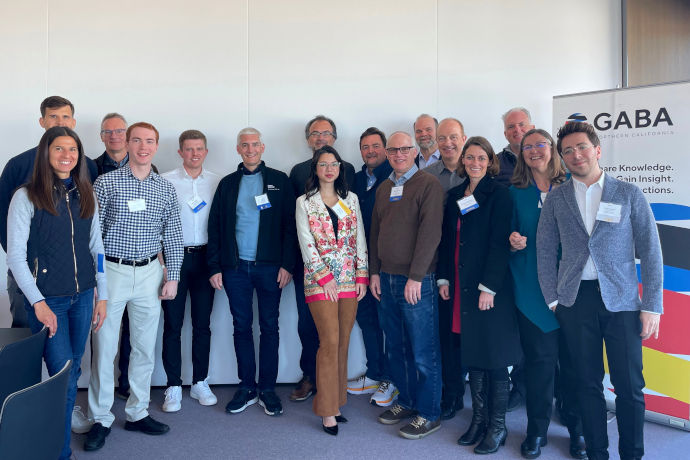 Consumer and Investor Trends at GABA Innovation Breakfast
Last week, GABA held its quarterly Innovation Breakfast, sponsored by WilmerHale in Palo Alto. The theme for the meeting was consumer tech, and to set the stage, Daniel Zimmermann, partner at WilmerHale, provided a briefing on investor trends, including just-released final data for last year. 2022 valuations have decreased drastically from 2021, especially in the later stages. Still, if we remove 2021 as an "aberration year," we would see more steady growth from the prior years. With all the talk about Silicon Valley losing its "luster," it is comforting to see that total fundraising activity in the Bay Area is still #1 in the USA, outpacing the geographically much larger New York Metro area by 55%, and the latest hotspots Miami and Austin by a factor of 35x.
Next, we reviewed consumer technology trends inspired by a review of the Consumer Electronics Show in Las Vegas by Steffen Bartschat, CEO and founder of Hill88. New consumer robot offerings intrigued our audiences, especially in the lawn care segment. Devices that help sustainability (e.g., composting trash cans) are a growing category for consumers and solutions for storing/generating backup electricity. Finally, we see an emerging trend in more devices working together in the home, even if they are supported by different home automation networks. No conversation in Silicon Valley this year can escape a discussion of chatGPT and its implications for the future. There was a general agreement among participants that the long-term consequences of generative AI are immense. Still, there was also a wide variety of opinions in the room about exactly when the benefits will outweigh the short and medium-term risks as the technology still needs to mature over time.
Silicon Valley has a well-deserved reputation as a cradle for disruptive ideat due to the concentration of subject-level experts and organizations such as GABA that foster corporate and startup knowledge exchange and build partnerships. We look forward to hosting our following breakfast conversation in June!
Author: Yannick Schnek, GABA volunteer