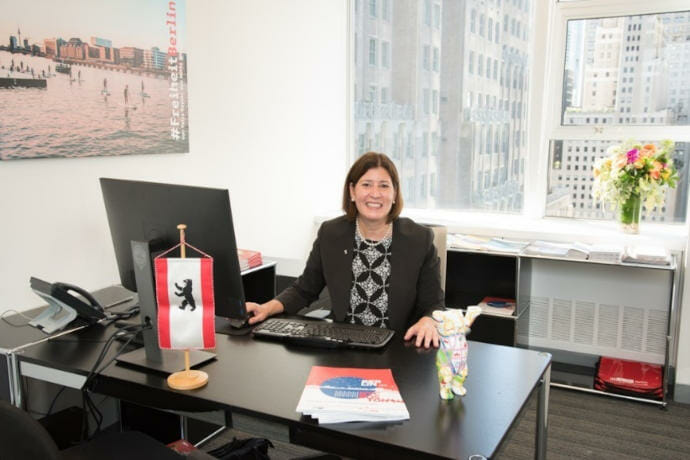 New GABA Member: Berlin Business Office, USA
Berlin Business Office, USA, fosters business relationships between the United States and Berlin. Even in challenging times of the ongoing global health crisis, the New York office is working at full capacity and sets important pillars for building future bridges. In 2020, the office celebrated its first anniversary and generated over 80 inquiries from U.S companies interested in doing business in Berlin and Berlin's companies looking to expand to the U.S markets.
In January BBO, USA hosted a New Year's Reception in New York and in February, it hosted a Berlin-USA Networking Reception at its HQ, Berlin Senate for Economics, Energy and Public Enterprises. The office was also very active with virtual #BerlinMeetsUSA events to connect both ecosystems with experts in Smart Cities and Artificial Intelligence in collaboration with partners such as Berlin Partner, IHK Berlin, German American Chambers, government agencies and industry associations.
What's more, is that the BBO's newly launched website showcasing Berlin's industry clusters and strategic advantages recently won the Gold Stevie® Award at the 17th Annual International Business Awards® for Best Website for Non-Profits. Under @BerlinInUSA, the office is constantly active on social media such as Twitter and LinkedIn to promote and perpetuate the benefits of doing business in Berlin. People interested in hearing about recent expansion success stories between Berlin and the United States can also sign up for the BBO's quarterly newsletter.
It doesn't end there. Berlin's unique offerings from industry, science, academics and the tech sector promote the creation of new, innovative products and services for the global economy. Companies like Hello Fresh, N26, Omio or GetYourGuide successfully conquered the American market coming out of Berlin while American companies like Tesla, Youtube and Netflix recently expanded to the German capital based on great infrastructure and professional talents.
BBO, USA, offers cost-free and confidential location advisory services and can help establish strong networks in the U.S. and Berlin.
For further information please contact:
Kristina L. García, Managing Director
kgarcia@berlinbusinessoffice.com
wwww.berlinbusinessoffice.com