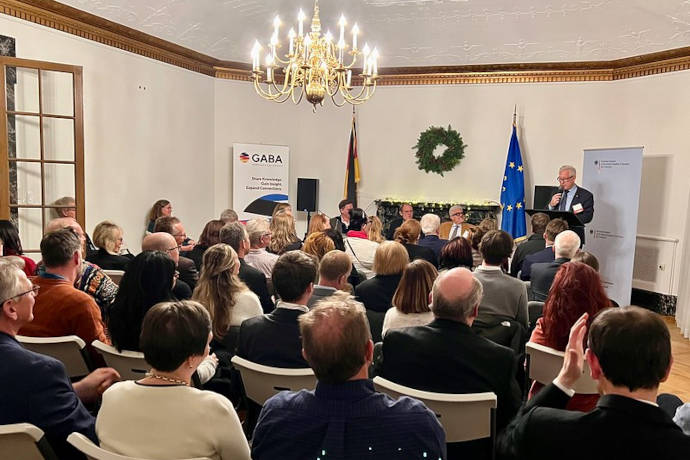 Global Business Outlook 2023
Great event at the beautifully decorated premises of the German Consulate General in San Francisco! Last week's Global Business Outlook 2023 was GABA's way to conclude a busy and challenging year – with a full house and very engaged members of our German American community!
Through his welcome speech, German Consul General Oliver Schramm connected the audience with Germany – home country of so many participants. Our expert speakers Sean Randolph, Mathias Schilling, and Jason Wittenberg, led by our wonderful moderator Marie-Astrid Langer, gave a deep insight into what the year 2023 might hold for us on political, economic and social issues. Everybody enjoyed the lively network gathering around appetizers, Stollen, Lebkuchen, and Glühwein.
We thank the team of the German Consulate General San Francisco for providing such a wonderful venue. Thanks to Lehr's German Specialties for the delicious Christmas Stollen from Dresden. Thanks to all speakers for sharing their insights. It was wonderful to enjoy the community and to share the joy of the holiday season!