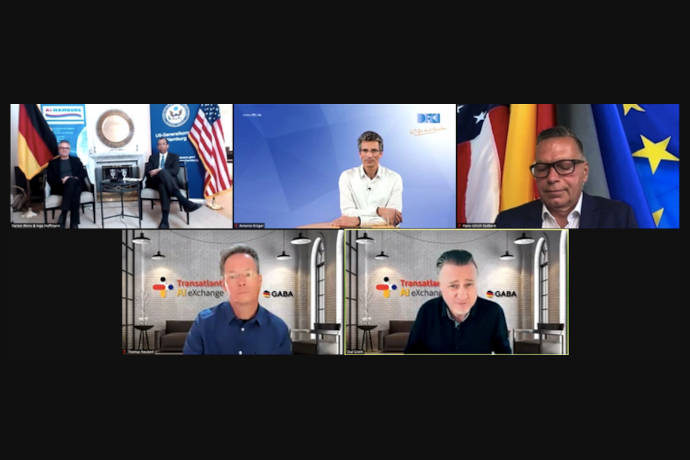 German-U.S. Partnership: Harnessing the Future of AI and Innovation
This week on Monday, April 19th, GABA had the honor to host a high-profile Fireside Chat to promote U.S.-European cooperation in artificial intelligence. This event was the joint launch of theTransatlantic AI eXchange and the Transatlantic Innovation Week. The Transatlantic AI eXchange initiative will present top-expert discussions from both sides of the Atlantic. The Transatlantic Innovation Week is organized by the "U.S. Mission Germany", a cooperation of the five U.S. Consulates in Germany and the American embassy to put the focus on German-US innovations.
Both the U.S., with a new administration, and Germany, with elections later this year, are facing a period of change. Nevertheless, renewed mutual trust enables a common path and cooperation between the countries again, noted Olaf Groth, who moderated the discussion. As a result, German Consul General Hans-Ulrich Südbeck pointed to endless possibilities to forge a productive transatlantic relationship in the 21st century. U.S. Consul General Darion Akins added that AI will have a fundamental role in the future, having the potential to change every facet of our lives – which implies the importance of protecting our common interests and values.
Thomas Neubert built on these observations and suggested that data are the new oil for our economies. To ensure that data and AI are utilized to the fullest and in collaboration of U.S. and German AI-experts and business professionals, he introduced the new Transatlantic AI eXchange initiative. The goal of the initiative is to expedite the application of AI in businesses by demonstrating successful AI use cases. The Transatlantic AI eXchange will offer foundational webinars this year and subsequently, could potentially organize virtual and in-person regional workshops and delegation visits. The audience will be start-ups, SMEs (Mittelstand), corporates, research institutions, and professionals.
Antonio Krüger is strongly advocating that AI needs to be built around humans (human-centric approach) and that scientific collaboration on a global level is crucial for breakthroughs in the AI sector – which the past decades have shown. Ingo Hoffmann added that AI will have a tremendous economic potential of 15 trillion USD. He continued that start-ups will be essential in bringing AI innovations and expertise into the market, but they require sufficient funding and a comprehensive AI ecosystem. These foundations are gradually developing in Germany through initiatives such as AI.HAMBURG or the AI.FUND.
The Transatlantic AI eXchange initiatives founders Thomas Neubert & AI.HAMBURG would like to thank the speakers who contributed their unique experience to the Fireside Chat on April 19th and appreciate the strong support of the leading partners GABA, and the Deutsches Forschungszentrum für Künstliche Intelligenz (DFKI), our sponsors (Taylor Wessing and the German Consulate in San Francisco) as well as our partners (U.S. Consulate in Hamburg, German Consulate in San Francisco, Cambrian Futures, KI Bundesverband and the German American Business Council in Boston).