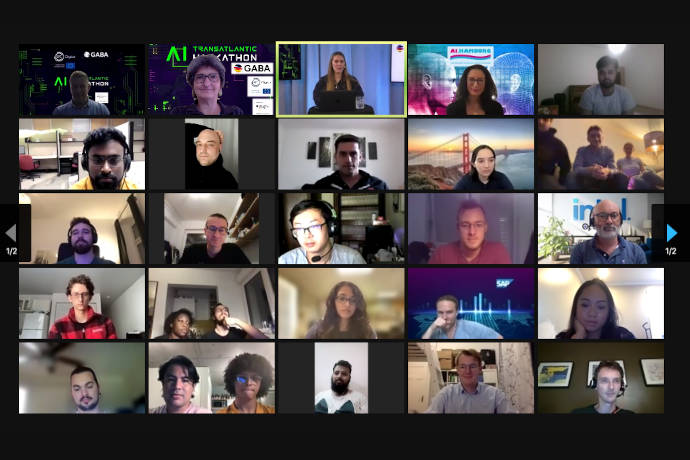 Winners of 1st Transatlantic AI Hackathon – Health and Safety Monitoring DeepHack
Wow, what a ride this was! 48 hours of intense work and mentoring led to amazing results, with just a few small breaks for sleep, food, and the occasional Yoga sequence. 14 teams conceived solutions for very important challenges such as obesity and diabetes, fires, accidents, drowning, integration of the blind and deaf, diseases of the skin, and several others. Almost 70 team members showed an immense creativity, skill, and stamina to come up with new and useful solutions. More than a dozen of very experienced mentors gave valuable support throughout the hackathon.
On Sunday, the jury had a very difficult time to determine the prizes. Really everyone has been a winner, considering the progress and learnings along the way. Congratulations to:
Team 15 (1st place): Advanced BMI, with Aïcha Konaté, Mayank Yadav, Johnny Smyth, Lauri Laatu, Marvin Mouroum.
They developed a more precise measure for BMI by using computer vision and AI on the edge without compromising privacy. During the weekend, they built an affordable working prototype for body measurement. In addition, they created an app which displays the private data on smart phones which can be tracked over time. They envision their first customers to be fitness studios.
Team 10 (2nd place): FEUER – Health and Safety Monitoring systems for Fire Fighters, with Moritz Hofmann, Tim Brinkmann, Nick Feuer, Timo Wielink, Philipp Nürnberger.
They 3D-printed a small, low-power IoT device which also works as an offline solution without WiFi. It is worn by fire fighters and provides visuals and real-time sensor readings, incl. toxic gases. These data can be seen in FEUERMAP, a live heatmap.
Team 7 (shared 3rd place): Drowning Detection System, with Bonnie Lui, András Temesi, Máté Tóth, Grzegorz Wozniak, Leonard Stutzer.
Their solution will extend and complement capabilities of lifeguards. Semi-automatic drones will be patrolling a beach coast with a stereo camera, which utilizes visualization on the edge with gesture detection and localization features. Their initial customers will be government, municipalities, and exclusive resorts, and they envision a payment model with subscription fees for the software and drone maintenance.
Team 12 (shared 3rd place): Stata Mater – Intelligent Wildfire Prevention Platform, with Jhorman Pérez, Andrés Jiménez Pacheco, Beatrice Trinidad.
This team trained intelligent cameras to look for and identify risky vegetation. The data are visualized by an app that shows active risks and offers recommendations on how to solve them. Their initial customers will be insurers who can adjust the fees if property owners install the cameras and act by the recommendations.
Thanks to our Platinum sponsors Intel and Luxonis, most of the teams worked with their technologies, and had great support from mentors of these companies. UltraHack did a tremendous job all weekend and many weeks leading up to this event. We also thank our Gold sponsors SAP and WilmerHale for their support.
We hope to see everyone again at our next Hackathon in spring of 2022. A new challenge awaits you. Stay tuned.
This initiative is organized by GABA and EIT Digital and supported by the Transatlantic Program of the Federal Republic of Germany, funded by the European Recovery Program (ERP) of the Federal Ministry of Economics and Energy (BMWi).