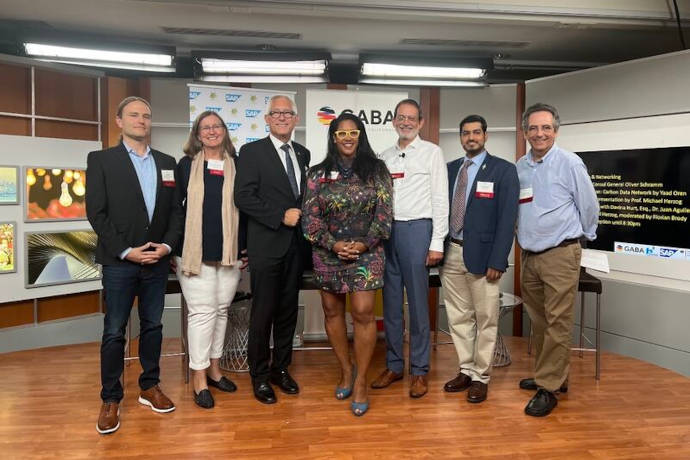 GABA members and guests attended an enjoyable as well as educational event at the wonderful SAP Labs in Palo Alto on Thursday.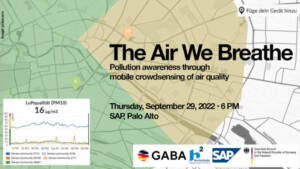 To kick off the event, German Consul General Oliver Schramm gave a warm but pensive introduction, setting the tone for the important discussions which were to follow. Subsequently, GABA Board member and Head of SAP Innovation Center Network Yaad Oren presented a demo of SAP's exciting Carbon Data Network project. Next, attendees were treated to a presentation by Prof. Dr. Michael A. Herzog on the CleanBREATHE research and their plans to make low-cost air quality sensors available to everyone. Lastly, Florian Brody hosted a panel consisting of Davina Hurst from the California Air Resources Board, Dr. Juan Aguilera from Stanford, and the aforementioned Prof. Herzog, delving deeper into the topic of air quality. At this point the stage was also opened to questions or comments, and an illuminating discourse quickly began between panel and audience members alike. To end the evening, a jovial mood facilitated further networking and final discussions about problems or solutions relating to the future of air quality on Earth.
GABA would like to thank the University of Applied Science Magdeburg-Stendal and especially the German Consulate General, San Francisco for kindly supporting this event. Our gratitude goes to our generous sponsor SAP for hosting the event in Palo Alto including the networking before and after. Last but not least, thanks to everyone who attended, we hope you enjoyed and made some valuable connections!
Written by: Pascal Nicoletti (GABA volunteer)