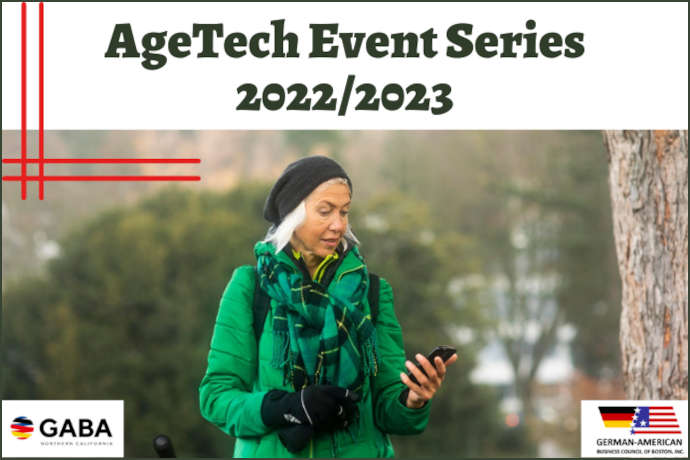 AgeTech Event Series 2022/2023
Digital Technology has the power to make our lives easier, bring communities together, and create new models for collaboration. Given that adults over age 65 will soon outnumber any other age group, how can technology help bridge intergenerational gaps and create a more inclusive society for people of all ages?
GABA German American Business Association and GABC German American Business Council are thought leaders by bringing together the US and German tech industry, social welfare organizations, universities, Government agencies and communities, to discuss how the design, application, and best practices of modern and future technology can lead the way in combating ageism and empower people of all ages.
Germany, Silicon Valley and New England are known around the world for their technological leadership and innovation. But even here, one group – our older adult population – lacks the ability to access and use technologies that many of us take for granted. This has been exacerbated by the COVID-19 pandemic and the resulting shift to life online. It is time to address that digital divide. The disparity in technology access and use between older and younger people is not new nor unique to our countries. But the coronavirus pandemic has turned a serious problem into an urgent one, as thousands of older adults faced more than a year of enforced isolation without internet access and/or the digital training necessary to effectively move their lives to online platforms. This lack of access has resulted in increased social separation during these difficult times and a potentially life-threatening inability to obtain necessary services, such as telehealth, financial support, and grocery delivery. Even as the pandemic loosens its grip, many service providers will continue to offer the majority of their services online, deepening the need for meaningful connectivity for older people.
GABA in partnership with GABC would like to organize a series of five panel discussions addressing this issue. We are looking for scientists from Germany and the US helping us live longer, better lives.
The panel discussions will be in close collaboration with the German Consulates in both Boston and San Francisco, as well as the DWIH German Center for Research & Innovation, and Berlin based DUCAH Digital Urban Center for Aging & Health.
Longevity & AI
CRISPR & Genetic Engineering
Sensors & Wearables
Brain Health
Medical Innovations
Please contact us if you would like to be a speaker or moderator in one of these events or for any suggestions you may have!