Pandemic Management and Preparedness in Germany and the U.S.: Looking forward
March 24, 2021 @ 10:00 am

-

11:00 am

PDT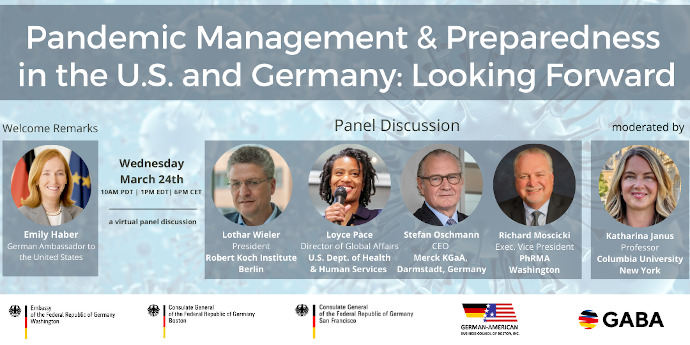 We are delighted to present a panel discussion under the auspices of the German Embassy in Washington, D.C., with Professor Dr. Lothar Wieler, President of the German Robert Koch Institute, Loyce Pace, Global Affairs Director at the US Department of Health and Human Services, Dr. Stefan Oschmann, CEO of Merck KGaA Darmstadt and Richard Moscicki, M.D., Chief Medical Officer and Executive Vice President of Science and Regulatory Advocacy at PhRMA.
The event will be opened by Dr. Emily Haber, German Ambassador to the United States, and moderated by Professor Dr. Katharina Janus, Professor of Health Policy and Management at Columbia University.
It has been a year since the initial lockdowns across the world, including in Germany and in the U.S. Pandemic management and public health responses have differed greatly from country to country. Even though vaccines have been developed and manufactured in record time, neither Germany nor the U.S. have been able to move back to normalcy – yet. This panel will present the perspectives of the heads and leading experts of public health agencies and pharmaceutical companies on both sides of the Atlantic:
Where are we right now and what will the next 6-12 months hold?
How does the situation differ in Germany and the U.S. and what can we learn from each other?
How do we deal with the emergence of new variants?
Are the vaccination campaigns fast enough to prevent another surge?
What are the prerequisites for a return to normalcy?
What lessons can we learn from this pandemic in terms of preparedness?
How can we ensure that we will be better prepared for the next pandemic?
Has the pandemic created new avenues for transatlantic cooperation?
This event is part of a series jointly organized by the German Consulates in Boston and San Francisco together with the German American Business Council in Boston, and the German American Business Association in Northern California.
To view a recording of the first event "Vaccines in record time" click here.
Welcome by
German Ambassador to the United States
Emily Margarethe Haber has been German Ambassador to the United States since June 2018.
Prior to her transfer to Washington, DC, she served in various leadership functions at the Foreign Office in Berlin. In 2009, she was appointed Political Director and, in 2011, State Secretary, the first woman to hold either post. Thereafter, she was deployed to the Federal Ministry of the Interior, serving as State Secretary in charge of homeland security and migration policy from 2014 until 2018.
Emily Haber has many years of experience with Russia and the former Soviet Union. She held various posts at the German Embassy in Moscow, including Head of the Political Department. At the Foreign Office in Berlin, she served as Head of the OSCE Division and as Deputy Director-General for the Western Balkans, among other positions.
Emily Haber holds a PhD in history and is married to former diplomat Hansjörg Haber. The couple has two sons.
Speakers
President
Robert Koch Institute Berlin
Professor Lothar H. Wieler is President of the Robert Koch Institute (RKI) in Berlin, the Federal Government's central research institution in the field of disease control and prevention based in Berlin. The institute is central in carrying out research, informing the public and advising the government on the Covid-19 outbreak and response.
A veterinarian by training, Professor Wieler has focused his research on zoonotic diseases, that is, infections that are transmitted between animals and humans, which account for many newly emerging and re-emerging infectious diseases.
Professor Wieler is Deputy Spokesperson for the research consortium InfectControl 2020 and is a member of the scientific advisory board of the Global Research Collaboration for Infectious Disease Preparedness (GloPID-R) and the EACHR. Since 2010, he has also been an elected member of the German National Academy of Sciences
Director of the Office of Global
Department of Health and Human Services
Ms. Loyce Pace, MPH, is an outspoken advocate for global health equity, promoting policies and programs from AIDS to Zika. Having lived and worked on the ground in more than 15 countries across 3 continents, her efforts are rooted in experience partnering with a wide range of government and grassroots stakeholders.
She most recently served as President & Executive Director of Global Health Council (GHC) and was also a member of the Biden-Harris Transition COVID-19 Advisory Board. In her role at GHC, she advocated strongly for increased investments in global health in the face of budget cuts to agencies, like the U.S. Centers for Disease Control & Prevention and United States Agency for International Development. From 2006 to 2011, Loyce worked as Director of Regional Programs for the American Cancer Society. She then became the Executive Advisor for Programs and Policy at the Livestrong Foundation. Loyce holds a bachelor's degree with Honors in Human Biology from Stanford University and a Master's degree in Public Health from Johns Hopkins Bloomberg School of Public Health.
Chairman of the Executive Board and CEO
Merck KGaA Darmstadt
Stefan Oschmann is Chairman of the Executive Board and CEO of Merck KGaA, Darmstadt, Germany. Before taking office at the end of April 2016, he served as Vice Chairman and Deputy CEO, with responsibility for Group Strategy, among other things. Stefan Oschmann joined Merck KGaA, Darmstadt, Germany, in 2011 as a member of the Executive Board and was responsible for the Healthcare business sector until the end of 2014. He drove the transformation of the Biopharma business by optimizing its cost structures and improving the efficiency of its research & development model, which included a clear portfolio prioritization. Before joining Merck KGaA, Darmstadt, Germany, Stefan Oschmann worked for the U.S. pharma company MSD, where he served in a range of senior executive positions. He started his career at an agency of the United Nations, and worked for the German Chemical Industry Association (VCI). Stefan Oschmann holds a doctorate in Veterinary Medicine from Ludwig-Maximilians-Universität in Munich.
Chief Medical Officer and Executive Vice President of Science and Regulatory Advocacy
PhRMA
Richard (Rich) A. Moscicki, M.D., is the executive vice president of science and regulatory advocacy and the chief medical officer at the Pharmaceutical Research and Manufacturers of America (PhRMA).
Dr. Moscicki came to PhRMA in 2017 after serving as the deputy center director for science operations for the U.S. Food and Drug Administration's (FDA) Center for Drug Evaluation and Research (CDER) since 2013. While at FDA, Dr. Moscicki brought executive direction of Center operations and leadership in overseeing the development, implementation, and direction of CDER's programs. Previous positions include serving as chief medical officer at Genzyme Corporation from 1992 to 2011 where he was responsible for worldwide global regulatory and pharmacovigilance matters, as well as all aspects of clinical research and medical affairs for the company. He served and a senior vice president and head of clinical development at Sanofi-Genzyme from 2011-2013.
Dr. Moscicki received his medical degree from Northwestern University Medical School. He is board certified in internal medicine, diagnostic and laboratory immunology, and allergy and immunology. He completed his residency in Internal Medicine, followed by a fellowship at Massachusetts General Hospital (MGH) in clinical immunology and immunopathology. He remained on staff at MGH and on the faculty of Harvard Medical School from 1979 until 2013.
Moderator

President & CEO at ENJOY STRATEGY
Founder & Managing Director at Center for Healthcare Management
Founder and Managing Director at Center for Healthcare Management Columbia University New York, USA, and Paris, France; President and CEO at ENJOY STRATEGY
Professor of Healthcare Management in Germany and at Columbia University New York, USA
Member of Advisory and Supervisory Boards
Prof. Dr. Katharina Janus, a professor of healthcare management in Germany and at Columbia University New York, is the founder and managing director of the global research and convening organization CENTER FOR HEALTHCARE MANAGEMENT and the president and CEO of the consulting company ENJOY STRATEGY. Over the last twenty years she has held multiple positions as an entrepreneurial executive and tenured scientific professor. She has authored more than 150 publications and convened global executives and leading thinkers in her forums. As a German-born global citizen she has chosen France as her home and base camp for her world-wide undertakings. Having worked in many Western European countries, the US and China, Prof. Janus is well-known for her global market expertise, strategic analyses, and cultural sensitivity. As a tri-lingual keynote speaker and moderator she frequently contributes her global domain expertise and in-depth knowledge of healthcare markets and trends. She has helped a range of market players from large multinationals to mid-sized not-for-profits, foundations, senior executives, governments and private equity companies with strategic endeavors. Prof. Janus has taken on roles as advisory and supervisory board member at for-profit (for example Allianz, EFESO), not-for-profit (such as the French Hospital Federation) and public organizations (Steering Committee of the Swiss National Fund).
Dr. Janus earned her Master's Degree in Business Administration at the Universities of Hamburg and Université Panthéon-Sorbonne Paris and holds a PhD in Business and Social Sciences from Helmut-Schmidt-University in Hamburg as well as the German qualification as a full professor. She was a post-doc visiting scholar and visiting professor at UC Berkeley and is certified in behavioral change and motivational interviewing techniques. Dr. Janus is the recipient of awards by the Commonwealth Fund, the Rockefeller Foundation, the Brocher Foundation and the European Union.
Partnership
In cooperation with the German Embassy, Washington, German American Business Council, Boston and the German Consulates of Boston and San Francisco

      
Cost
FREE but registration is required
During registration you can sign up for membership which will waive/reduce the event fee. Just click the REGISTER NOW button and follow the instructions.
Disclaimer:
By taking part in this event you grant the event organizers and partners full rights to use the images resulting from the photography/video filming, and any reproductions or adaptations of the images for fundraising, publicity or other purposes to help achieve the association's aims. This might include (but is not limited to), the right to use them in their printed and online publicity, social media, press releases and funding applications. Please
contact us
with any questions.