COVID-19: Putting Public Health to the Test
December 16, 2021 @ 10:00 am

-

11:00 am

PST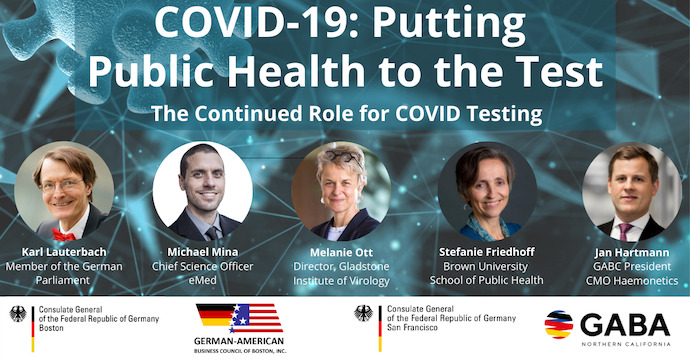 The Continued Role for COVID Testing

A panel discussion with Karl Lauterbach, German politician (SPD) and other leading health experts
As air and land borders have opened again and families are planning to get together in person this holiday season, we are going to discuss COVID-testing as a public health tool, and one that may be underutilized in this phase of the pandemic. Currently, in the U.S. COVID testing mostly occurs in persons showing symptoms (test-to-treat). Could we navigate in person meetings, the work place, family gatherings more safely if we were to (rapid) test everyone before getting together (test-to-stay)? Some countries around the world were using this path. And many countries are reconsidering their testing strategy again as COVID cases continue to rise, including in Germany where tests are now being offered for free again.
We will discuss this with one of the most sought after German politicians and health experts as well as with leading and vocal scientists on this topic here in the U.S. What can the different COVID tests tell us, and what not? Where does the science and development of new tests stand? What is the threat from break-through infections and how could rapid testing add to the primary vaccination strategy? And how can we achieve broad acceptance in the population?
Welcome by
Consul General of Germany to the New England States in Boston
Speakers
Member of the German Parliament, Professor of Health Economics and Clinical Epidemiology at the University of Cologne
Chief Science Officer at eMed Digital Healthcare
Director, Gladstone Institute of Virology, Professor of Medicine at the University of California San Francisco
Associate Professor of Practice, Brown University School of Public Health
Moderator
President German-American Business Council of Boston, and Chief Medical Officer, Haemonetics Corporation
Partnership
In cooperation with the German American Business Council, Boston, the German Consulates of Boston and San Francisco
      
Cost
FREE
During registration you can sign up for membership which will waive/reduce the event fee. Just click the REGISTER NOW button and follow the instructions.
Disclaimer:
By taking part in this event you grant the event organizers and partners full rights to use the images resulting from the photography/video filming, and any reproductions or adaptations of the images for fundraising, publicity or other purposes to help achieve the association's aims. This might include (but is not limited to), the right to use them in their printed and online publicity, social media, press releases and funding applications. Please
contact us
with any questions.